About Cathy Hudlass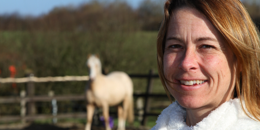 Cathy is an Accredited Counsellor & Psychotherapist and Registered Hypnotherapist. She prides herself on a wide range of qualifications that give her a broad experience of techniques that can be used to help people most effectively.
She pride herself on understanding you as an individual and constructing personal, tailor made therapy just for the individual. Open, non-judgemental and impartial, she aims to provide a warm and safe space for you to rediscover yourself, evolve and grow. She will show you respect, patience and understanding and try to see things from your perspective in order to help you work through and overcome the obstacles that prevent you from reaching your full potential.
Her background has been in the equine field long before completing her psychotherapy diploma and she is now lucky enough to have the ability to combine both passions especially after seeing the positive effects that horses can have on her clients.
She prefers to see clients in safe private and comfortable settings in Kent but in certain circumstances will travel to your own home.
EAT
Is a uniquely different approach to therapy & learning which builds relationships between horses & humans, creating a space where new possibilities can be explored. This approach uses activities on the ground with horses to express and explore emotional issues. Horses are honest, which makes them especially powerful messengers. (Read more.....)
EAL
Equine-Assisted Learning (EAL) is an effective approach to human development through horsemanship. Participants engage in team emphasized exercises and find themselves learning valuable skills in a fun and exciting atmosphere while working through the dynamics of horses. (Read more.....)
Counselling
Counselling provides you with a supportive non-judgemental and confidential environment in which you can explore any problems which may be troubling you.
Hypnotherapy
Hypnotherapy is about replacing the old negative thought patterns with positive new ones that will not only ensure you will effortlessly achieve your goals, but will also help you find balance, harmony and well-being in your life.
Qualifications

Diploma in Hypnotherapy and Counselling Skills
Chrysalis Accredited Professional Therapy Training, Accredited Training by the Royal College of Nursing

Advanced Diploma in Counselling & Psychotherapy
Chrysalis Counselling Ad.Dip.CP

Awareness in Bereavement Care
The Cruse Foundation Course OCNW2

The National Counselling Society
(Professional Member)

The Hypnotherapy Society
(Professional Member)